The uniqueness of the Sassi di Matera, a UNESCO heritage site, stems in part from the city's renowned artistic and artisan qualities.

Its artisanship has its roots in the structure of the city itself , which is made up of superimposed built layers, themselves the products of a centuries-old stratified housing system, and an extremely uncommon expression of technical manual dexterity.

The upshot has been an infinite visual web of volumes of every sort and kind of shape and size, choreographed in an endless series of continuous and broken lines running freely into each other to weave a harmonious canvas, with no attempt at rational and purely sectorial urban planning.
The Cortiletto dei Sassi di Matera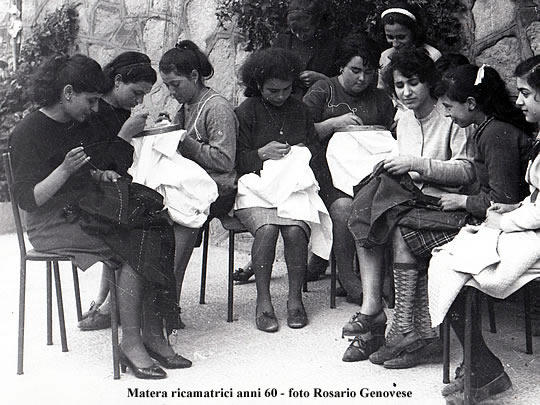 As its toponomastic logo suggests, is immersed in this historic tapestry, and an integral part of it. The company, with its exclusive yarn-based designs and entirely hand-made high-end garments and accessories serves as a mouthpiece and promotional vehicle for its city, interpreting the changing tastes dictated by fresh stylistic and practical demands while subscribing to a noble pursuit of beauty and classicality.

The artisan creations emanating from the Cortiletto dei Sassi thus manage to break their temporal bounds to become vital companions for daily use, luxury goods that also help to define a precise quality of life.
Artisan spirit
While deeply embedded in its native Basilicata region, the Cortiletto dei Sassi, a recently registered young brand, epitomises the spirit of our times: it is informed by the values thrown up by the new international globalisation scenario, values that can no longer be ignored in the pressing need to address environmental issues.

At no other period in the history of the manual arts has the artisan world, by its very nature, been more capable of expressing these values better than any other type of production, and of impacting upon the regulations governing production and marketing.

In the aftermath of the credit crunch, every single market segment is spurning artificial products, particularly disposal ones, often fashioned from unspecified and unidentifiable materials, in favour of a return to nature.